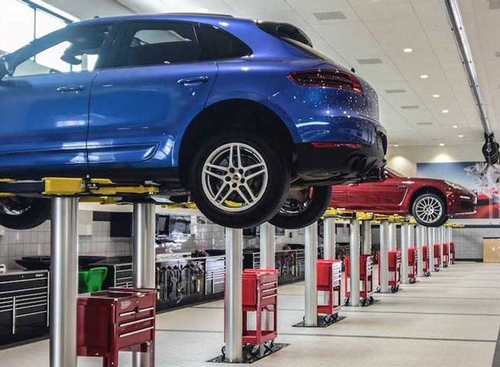 PREVENTING INJURIES & IMPROVING PRODUCTIVITY
Hoist Hanger is the leading provider of safety related lift accessories in the automotive market. Our commitment to eliminating back, neck, and shoulder injuries in the workplace drives us to make high quality tools to improve the ergonomics and efficiency of your Service Team.
HISTORY
2011 - Hoist Hanger was originally assembled and sold from the garage of Company President Rick Daley. With over 35 years of automotive experience, ranging from his position as a Service Manager to the head of Franchise Development for a National transmission repair chain, Rick knew Hoist Hanger was sure to be a success! The challenge was letting the automotive world know that there was a better way for technicians to remove and re-install wheels, and so the 'Hoist Hanger FREE Trial Program' was born!
2012 - Hoist Hanger earns the attention of an Automotive News Top 5 Dealer Group, and secures a contract to equip over 2,000 lifts with Hoist Hangers! With requests to distribute Hoist Hangers coming in daily, word is spreading on how Hoist Hangers not only reduce injury but improve technician productivity as well.
2014 - With the number of dealerships using Hoist Hangers growing rapidly, Hoist Hanger has now outgrown Rick's garage and now distributes product from Ferndale, WA and Vancouver, BC. Now in nearly 1,000 dealerships, and on almost 20,000 lifts Hoist Hangers can be found throughout North and South America, Australia, New Zealand, and Europe!
PRESENT - Our Team and distributor network continue to grow every day. Hoist Hangers are now private labeled for major lift manufacturers, automakers and we work with leading Dealers and Dealer Groups worldwide to improve the safety and productivity of their Service Operations. Hoist Hangers are now used on over 30,000 lifts in over 2,500 stores across North America. We continue to develop new products to improve the ergonomics of handling today's heavy wheels and tires!